What's a Filipino Christmas table spread without kakanin? I mean, it would never be complete without those colorful rice treats that are very pleasing, not only to the eyes, but also pleasing to the palate! Kakanin, as what we call these rice cakes in the Philippines are mostly made out of sticky rice, sugar, and coconut. But the best part is, as a country so diverse, we have a multitude of variations for every occasion. We don't just stick to one kind.
If you're looking for a store that can satisfy every kakanin craving you could possibly think of… fret not! We found the perfect store for you! Penn & Paeng's got you covered and aside from the exciting kakanin varieties they have, you can find them almost everywhere near you and if not, the nearest branch is always ready to cater to you.
We have listed our top favorites from Penn and Paeng's, so get ready to drool!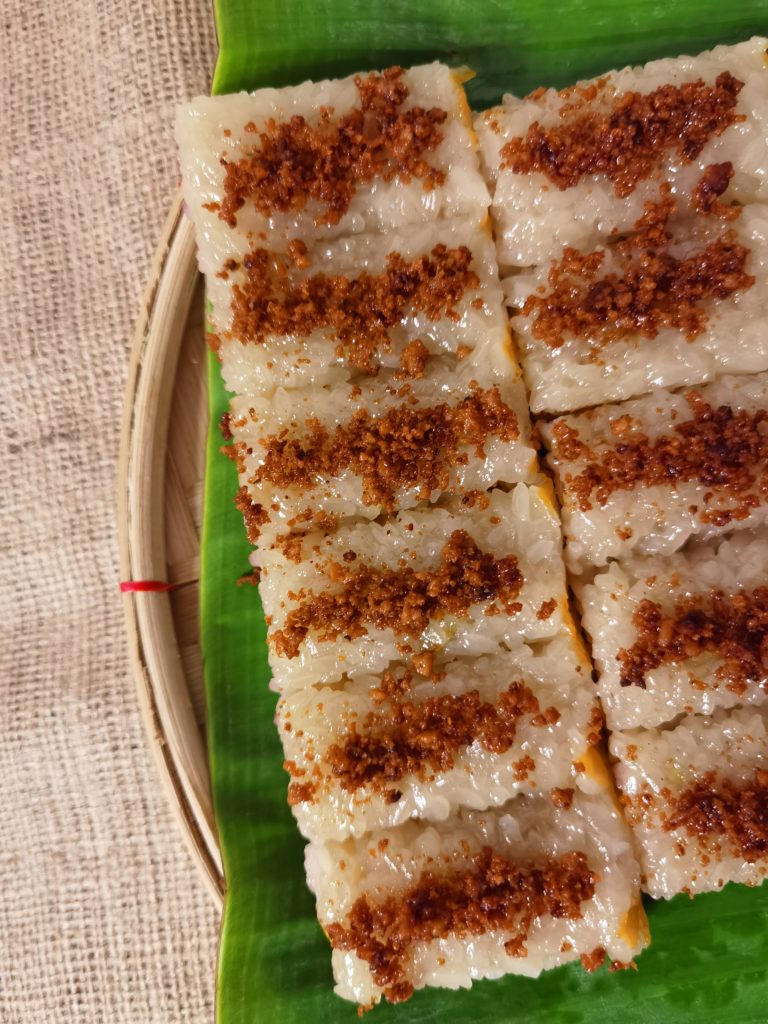 Biko is a type of rice cake made with glutinous rice, coconut milk, brown sugar, and is usually topped with "latik" or toasted and caramelized grated mature coconut. In Filipino tradition, this is usually served in special gatherings especially during Christmas and New Year's, as it symbolizes close family ties and prosperity. We love Penn and Paeng's version, as it is cooked in coconut just to perfection! Some also call this as "suman", as it is served in different ways. Some wrap them in banana leaves, and some would serve these in a bilao (rice winnower).
Kutsinta is a Filipino-favorite afternoon snack food, usually sold in local markets side by side with Puto. It is a round-shaped steamed rice cake often made with brown sugar, rice flour, and lye (which gives its strong orange color and gelatinous texture). It is usually served with grated coconut meat or budbod (toasted grated coconut). Modern versions serve kutsinta with dulce de leche dip and uses molasses instead of lye to give a deep black color, but we love to stick with the classic type and Penn and Paeng's version is truly a bomb in the mouth.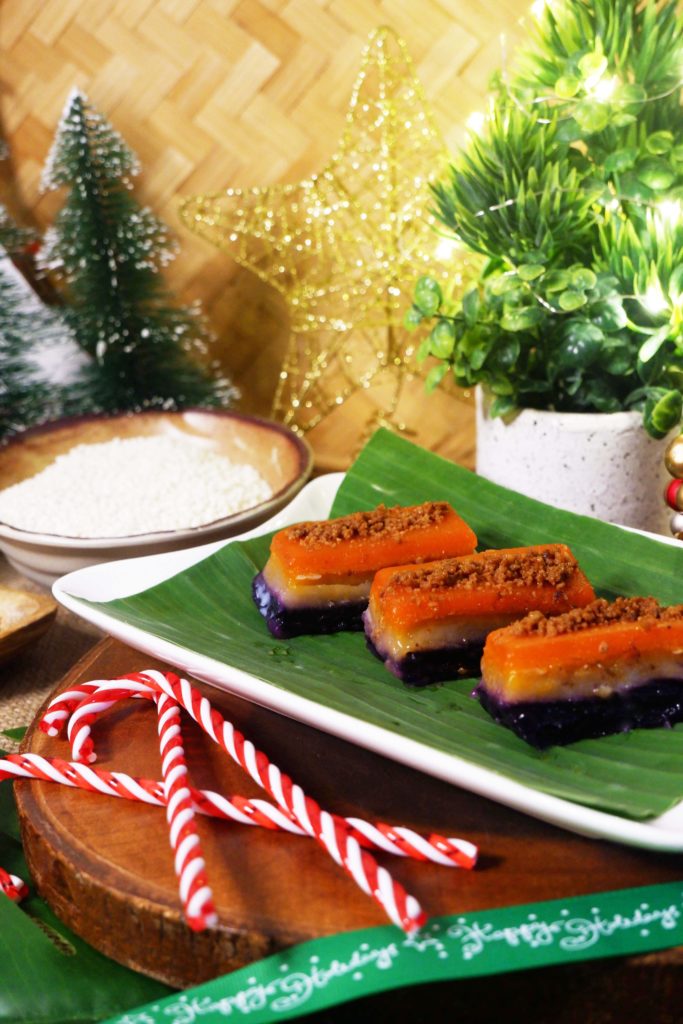 Sapin Sapin gets its name from its meaning which literally translates to "layers". Sapin Sapin is a type of kakanin that has layers of glutenous rice made with different colors stacked on top of each other. You can always wow your family and friends with Penn and Paeng's Sapin Sapin, with just the right sweetness and perfect colorful layers.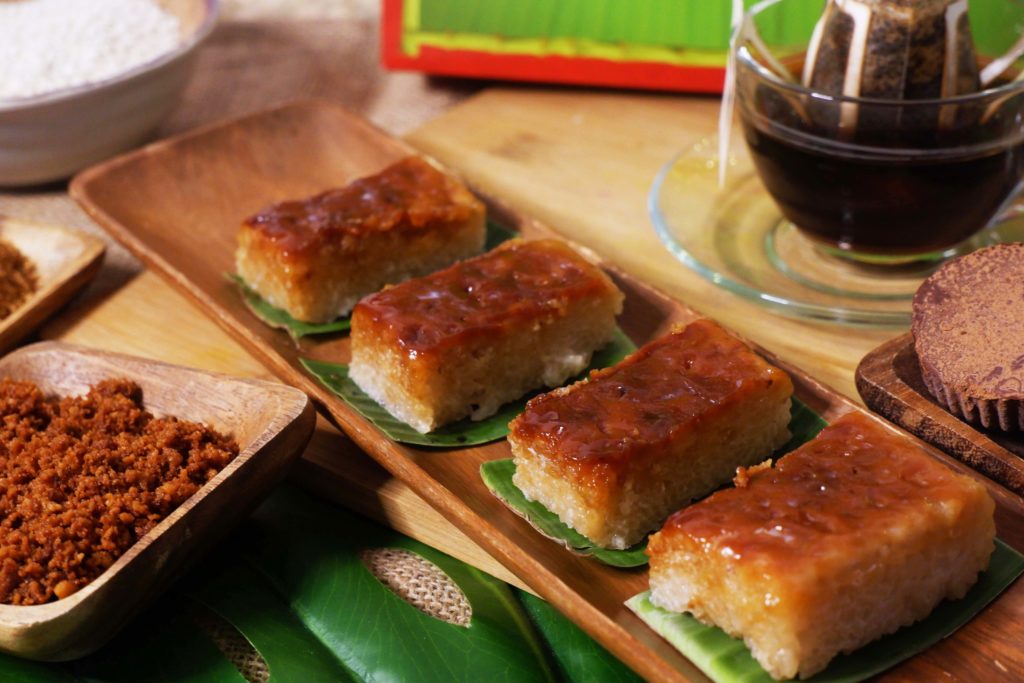 BIBINGKANG MALAGKIT is always a crowd favorite in every Filipino household. It is made with glutenous rice, cooked in coconut milk, sugar, and topped with caramelized sweetened coconut. It is a perfect addition as a dessert to your Christmas table, or celebrate an exquisite Christmas morning and have breakfast with your family with Penn and Paeng's Bibingkang Malagkit which is best paired with a good cup of Kapeng Barako (Filipino Black Coffee) or Tsokolate De Batirol (Filipino Hot Cocoa).
---
PENN AND PAENG'S BRANCHES
It is amazing how we Filipinos use almost the same ingredients and yet it produces different kinds. These are just a few of Penn & Paeng's Kakanin!  They also have cassava, bikong langka, and maja blangka. You can find Penn and & Paeng's stalls in the following locations:
South Supermarket Alabang
South Supermarket Sta. Rosa
South Supermarket Pasig
Makati Central Square
Waltermart Sucat
Super8 San Pedro, Laguna
Super8 GMA, Cavite
Unitop, Imus, Cavite
M&W Townstore Bay Laguna
168 and 999 Food Court
You may get their full menu and pricelist from their Facebook Page. You may inquire for the branch nearest to you on their Social Media Accounts.
FOLLOW THEM ON THEIR SOCIALS!
Facebook: https://www.facebook.com/Penn-Paengs
Instagram: @pennandpaengs
---
You may choose your favorite kakanins all in one box! This is the perfect addition to your Holiday table! We have tried a lot of Kakanins from local markets and other stores, but Penn & Paeng's is one of our favorites.
---
TRANSPARENCY: I WILL NEVER RECOMMEND ANYTHING THAT I HAVEN'T PERSONALLY TRIED AND TESTED. EVERYTHING ON THIS ARTICLE/REVIEW ARE MY PERSONAL JUDGMENTS. ALL PRODUCTS/ITEMS HAVE BEEN THOROUGHLY CHECKED OUT BEFORE ANY RECOMMENDATIONS.
Photos are owned by Penn and Paeng's and Table Snaps Studio
WOULD YOU LIKE TO COLLABORATE WITH ME?
SHOOT A MESSAGE ON MY FACEBOOK PAGE OR SEND ME AN E-MAIL:
I'D LOVE TO HEAR FROM YOU!