Happy Holidays! I've been wanting to write about this for a while now. At some point, we've all searched for the best steaks in Manila, where to order steaks, or which shop delivers premium steak cuts that deliver right at your doorstep. Soooo…. if you're planning to make your Christmas Table fancy and extra for this year, then you've landed at the right article!
Are you looking for premium steak cuts that are of superior quality, but doesn't break the bank? Luigy's Meats and More is the perfect store for you! We have tried five variations of their steaks, and yes! We were completely satisfied! Luigy's does not only sell steaks on their product list, they have a wide variation of meat cuts from ground pork, pork jowls, pork belly, pork loin, pork choice cuts for adobo or sinigang, ground beef, beef quarters, and also chicken. And if you're looking for a whole pork head to roast for your occasions, they also have it!
Here are some of the steaks we have tried and yes, what you see is what you get on the photos! So get prepared to drool!
BRAZILIAN RIBEYE
If you're the ribeye type of person like me, you'll definitely enjoy this! Ribeye is the most tender part of beef usually. With just the perfect amount of marbling and lean meat, this Brazilian Ribeye would definitely wow family or guests on your dining occasion! We had this served with roast potatoes with some baked garlic.
USDA RIBEYE
This superior grade steak is known for its tenderness and flavor! We love this cooked just perfectly rare or medium rare. Also served with roast veggies, this would be the perfect addition to your Noche table!
BUTTER AGED STEAK
Anything added with butter is fantastic, what more aged into it! Just like Luigy's Butter Aged Steak. The flavor of the butter sips into the meat! For this, we'd love to show you the uncooked version (how they looked like upon delivery). Fancyyyyy… we know, right?
TENDERLOIN
In fancy restaurants in Europe or Australia, we call this cut Filet Mignon. It is a thick cut of steak which is great when served medium rare and of course, Luigy's doesn't disappoint! It's perfectly tender and oozing with flavor with that red wine gravy and roast veggies.
WAGYU CUBES
This is practically the most versatile among all steak and beef cuts. We love this grilled, the Japanese way, cooked with butter, a little bit of teriyaki sauce on the side, and fine wine. Luigy's Meats and More has this on their product list! No need to look elsewhere.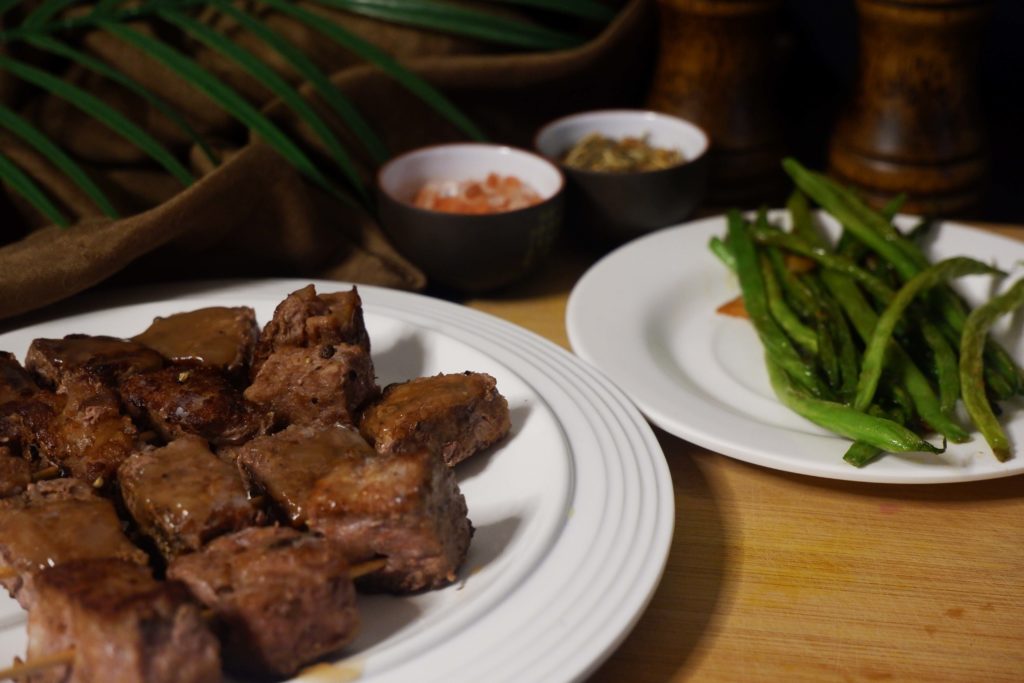 CHECK THEM OUT ON THEIR SOCIAL MEDIA PAGE:
You can order from Luigy's through their Facebook Page:
https://www.facebook.com/LUIGYSmeatsandmore
Good news! They accept all major debit and credit cards for cashless transactions!
DISCLAIMER:
Luigy's does not serve or deliver cooked steaks! They come fresh, raw, and packed in insulated packaging. If there's anything, you can cook the fresh steak cuts according to your liking and doneness, rub it with your choice of dry rubs, and pair it with your favorite wine and sides!
Again, 100% premium meats that won't break the bank! *winks* We can't wait to try more of the meat cuts they have on their product list!
---
TRANSPARENCY: I WILL NEVER RECOMMEND ANYTHING THAT I HAVEN'T PERSONALLY TRIED AND TESTED. EVERYTHING ON THIS ARTICLE/REVIEW ARE MY PERSONAL JUDGMENTS. ALL PRODUCTS/ITEMS HAVE BEEN THOROUGHLY CHECKED OUT BEFORE ANY RECOMMENDATIONS.
Photos are owned by Luigy's Meats and More and Table Snaps Studio
WOULD YOU LIKE TO COLLABORATE WITH ME?
SHOOT A MESSAGE ON MY FACEBOOK PAGE OR SEND ME AN E-MAIL:
I'D LOVE TO HEAR FROM YOU!