Korean Cuisine is very diverse without a doubt! When I went to Korea a few years back, aside from the scenic views (and the chance to meet my favorite Korean Oppas), I was looking forward to finally get to try the authentic version. Because of the massive influence of Korean Dramas and K-Pop, I have been Korean Restaurant hopping in Manila, but of course nothing beats the real deal. Sitting in one of those barbecue places in Seoul, eating Samgyetang in a stone pot in Incheon, trying street food in Myeong Dong, munching on hot sweet potatoes on a very chilly winter day in Mt. Seorak, everything was just surreal, so when I finally got back to Manila, Korean food has always been on my top list! I have been trying to cook some recipes to satisfy my cravings every now and then, but then I found Busan Kitchen! I am very happy to have found this store, as it is just a few kilometers away from where I live!
There is so much more into Korean Cuisine than just Korean Barbecue, and Busan Kitchen is the perfect store for you if you're looking for wide array of dishes on the menu! They are not your usual Samgyupsal place which is very common nowadays, so we're very excited to introduce Busan Kitchen to our readers! We have listed down some of our favorites below, so get ready to drool!
BIBIMBAP will always be on our list! With Busan Kitchen's version, topped with mushrooms, stir-fried vegetables, seaweeds, and a sunny side up, it will surely take you to that Bibimbap moment you see in K-Dramas!
TTEOKBOKKI is a very popular Korean street food. They are basically simmered rice cakes in sweet chili sauce which you can find in practically every corner of any South Korean neighborhood. Busan Kitchen has 2 versions. The regular Tteokbokki and the Cheese Tteokbokki which you can also choose your level of spiciness from super spicy or mild spicy.
PAJEON is a Korean Version of our classic Omelet. However, Koreans will always go extra as they put scallions, kimchi, sometimes seafood, and meat into it. Busan Kitchen does exactly that and this is one of their best sellers on the menu!
KIMBAP also makes it on our list of favorites! Busan Kitchen has 2 versions, the Pork Kimbap and Tuna Kimbap which we both loved, but Tuna Kimbap stands out a bit more for me as the flavor is super balanced! I have tried several versions of Tuna Kimbap in different restaurants and some of them has that fishy after-taste. Busan Kitchen's take tastes fresh and it's just perfect for a quick snack or a small lunch-on-the-go.
SOGOKKI MIYEOK GUK or Beef Seaweed Soup in Korean tradition is usually served in birthdays to celebrate the giving of birth of mothers. In Korean Dramas, you will also see this as a great hang-over soup after a rough night of drinking. This is actually my first time trying the authentic version as you don't often see this being served in Korean Restaurants in Manila. If you want to celebrate birthdays the authentic Korean way, Busan Kitchen delivers this right at your home or celebrations! Their version is a refreshing take on the usual soups they serve in other restaurants.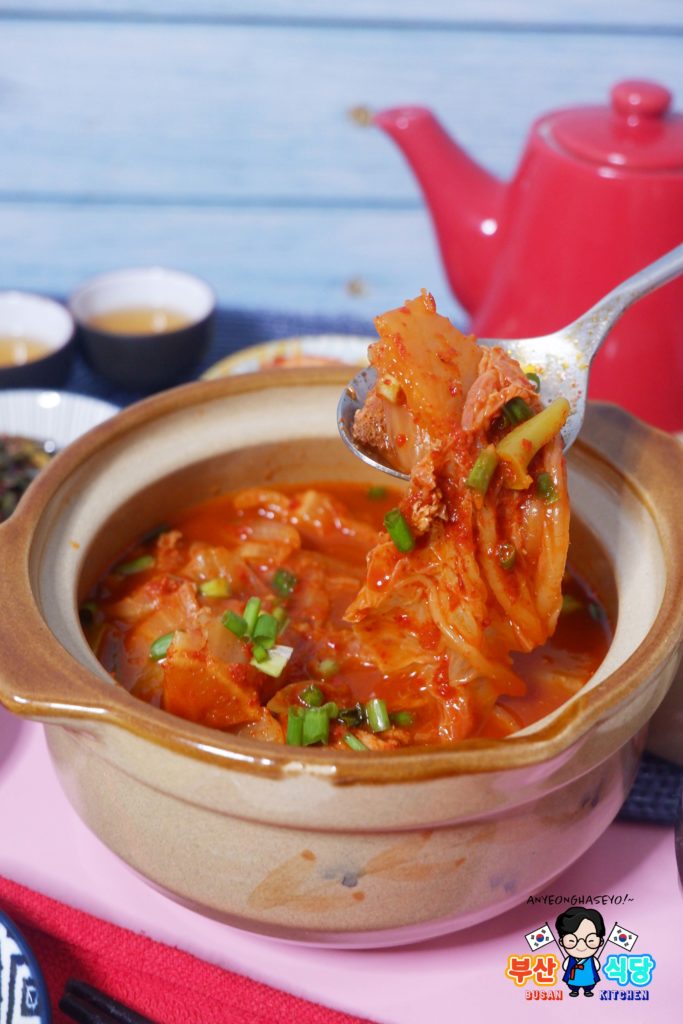 KIMCHI JJIGAE will always have a space in my heart, as it is the very first Korean recipe I have learned to cook. It is my favorite Korean go-to comfort food anywhere I am around the globe. Kimchi Jjigae or Kimchi Stew is the best partner to any Korean dry dishes or grill. It is usually made with Kimchi, Scallions, pieces of pork or beef, or seafood, stewed in a slighty spicy broth. Busan Kitchen's version is very light and ultimately flavorful.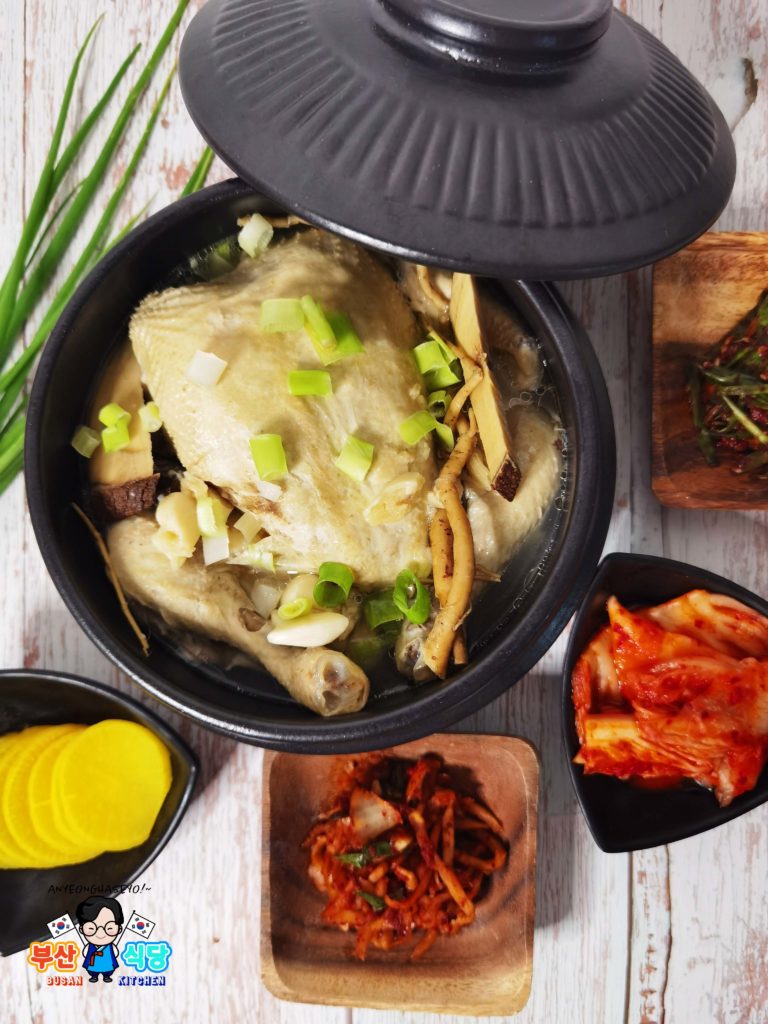 I was surprised to see SAMGYETANG on their menu selection! Only Authentic Restaurants would have this on the menu. I first had this in Incheon, and it was introduced to us as a dish for over-all health and wellbeing. Samgyetang or chicken ginseng soup primarily consists of a whole chicken, boiled and filled with garlic, rice, ginseng, and jujube. It is a very nutritious Korean dish as it helps with proper blood circulation. Yes! You get that whole chicken when you order Samgyetang from Busan Kitchen! Fancy, right? *winks*
JAEYOOK BOKUM is also one of our favorites! It is basically more of a Korean BBQ Pork Dish marinated in Gojuchang. Busan Kitchen's version wowed us! It is well-flavored, not too spicy, not too sweet, just the perfect balance. You may order this from Busan Kitchen as an ala carte, or you may also order it as a a meal set.
---
Those are just a few of our favorites on the menu! We would love to put everything as our favorites, but that would be more than 20 dishes on the list! But wait, there's more! Busan Kitchen not only has savory dishes, they also have desserts too! (Of course Authentic Korean Treats which are very pleasing to the eyes and palate!)
Busan Kitchen is actually also known for their rice cakes! They have more than 20 variations of rice cakes to choose from which we would be trying soonest! They definitely look colorful and appetizing! We are so excited to try these next!
---
ORDER FROM BUSAN KITCHEN
You can actually stay home while enjoying these authentic Korean dishes! You may place your orders in any of their Social Media Accounts.
Facebook: https://www.facebook.com/busankitchenofficial
Instagram: @busankitchen_
---
And while you're at it… here's more of what we have tried from Busan Kitchen so far! Everything is made fresh and perfect!
These are just a few of the selections you can find on Busan Kitchen's Menu! Visit them on their Socials to check our more of what they have! Best part is, they deliver, hassle-free! We definitely enjoyed our Korean feast and would definitely consider Busan Kitchen as our nearby go-to Korean Store!
---
TRANSPARENCY: I WILL NEVER RECOMMEND ANYTHING THAT I HAVEN'T PERSONALLY TRIED AND TESTED. EVERYTHING ON THIS ARTICLE/REVIEW ARE MY PERSONAL JUDGMENTS. ALL PRODUCTS/ITEMS HAVE BEEN THOROUGHLY CHECKED OUT BEFORE ANY RECOMMENDATIONS.
Photos are owned by Busan Kitchen and Table Snaps Studio
WOULD YOU LIKE TO COLLABORATE WITH ME?
SHOOT A MESSAGE ON MY FACEBOOK PAGE OR SEND ME AN E-MAIL:
I'D LOVE TO HEAR FROM YOU!