Antique (An-ti-ke), that is how you pronounce it. My foreign friends were puzzled when I posted my Antique photos on my Instagram Account and wouldn't stop asking where in the world I was. "It's Antique, friends!" It's a province in the Philippines located in the Western Part of the Visayas Region. It's not "antique", the adjective that you use to describe something ancient. It's AN-TI-KE. Please don't be confused.
I generally had no idea what I'm putting myself into when I decided to travel to Antique by land from Iloilo. But just as they say, the moments of happiness that we enjoy take us by surprise. On a rainy day, I flew from Manila to Iloilo to visit my good friends, Krizia and Mike. I also had some travel writing business to attend to so it was a two-in-one trip. I always stay with them every time I travel to Iloilo. I am very grateful that they receive me in their home very openly each time. I only had a few days left from my vacation in the Philippines. I was scheduled to go back to Sydney in two weeks, so I promised myself that I would make the most out of the remaining days. I have told Krizia that I wanted to go hiking at Mararison Island to take photos of "Rafflesias". You know, the huge flowers that eat humans. Just kidding. They eat parasites, but whatever. They are carnivores, and it is fascinating to see some of the species up close and personal. I was very excited to see them. Mike was actually thrilled too, as he is a big fan of things like those, plants, animals, and nature. Both of them are animal and nature-lovers which makes them a very compatible super couple. But during that time, Mike was exceedingly interested to see a Rafflesia in person. So over dinner and a couple of beers, we planned our Antique itinerary. For this trip, I spent my "Day 1" just food-blogging around Iloilo since I was invited by a number of restaurants and cafes prior to my arrival. That night we planned my "Day 2". We googled everything from transportation to activities, and in a snap, we weren't going to Mararison anymore. There was a better eco-tourist spot in the middle of a lush tropical rain forest. MALUMPATI COLD SPRINGS.
Oh my gosh! The google images were just so captivating that we have to experience it ourselves. No. Actually, WE NEED TO EXPERIENCE IT OURSELVES. It has become imperative now, it's not just a whim anymore. That was it, the deciding point! We're ditching Mararison! The planned itinerary was:
Take the earliest bus to Antique, head straight to Pandan (where Malumpati Cold Springs is located)
Stop by Tibiao on the way back to experience the very intriguing Kawa Hot Bath, maybe get a chance to see a Rafflesia somewhere
Head back to Iloilo before night time.
It's gonna be a one day trip, so we all settled to go to bed early so we can catch the first bus. Another friend was coming with us. It was the first time I have met Kim that time. He went with us for dinner the night before, and he was a part of the "Day 2 Planning". Kim is years younger than us. He's a unicorn (well at least that's what his Facebook Profile says). He's in his early twenties and this guy has a very contagious laughter. He's the type of person that will liven up a very boring classroom. It was just at that night that he have decided to come with us. It was a spur of the moment kind of thing, but Kim made everything extra fun – starting from the bus ride.
THE CERES BUS RIDE
If you will google "How to go to Antique from Iloilo", the first thing that would come up is the Iloilo International Airport. Apparently, Google suggests that the fastest way to Antique is by plane. But, that was not an option for us. We were working on a very limited budget so we all woke up early and proceeded to the Ceres Bus Terminal in Molo. As early as 5:15 AM, we were already out, riding a jeepney from Jaro to Molo to catch the 6:00 AM bus. Based on what we have researched, we would be arriving in Antique by 8:30 to 9:00 AM. We decided to skip shower that morning (we took a shower the night before), since we would be plunging in the cold springs in a matter of two and a half hours anyway. Plus the fact that it was really cold in the crack of dawn. So the three of us were already in the bus, Mike, Krizia, and me. The bus conductor handed over our tickets and reminded us that the bus would be leaving at exactly 6:00 AM. OMG. Kim was still missing in action. We thought he was already at the bus station, but there was no sign of Kim anywhere. Where is he? Is he still asleep? We did not receive any replies via SMS. We kept on calling his mobile, and that was the only time he finally answered. There's only 5 minutes left, the bus would be leaving, and Kim was running from his house to the bus station. There were no jeepneys in his area, so he was forced to walk (I mean run). The conductor kept on checking up on us and Krizia kept on apologizing in Ilonggo (the dialect in Iloilo). The bus driver started the engine. We were all stressed out so early in the morning. Kim was on loud speaker and he talked to the bus conductor saying that he was only 5 minutes away. We could hear him panting in the background. The driver drove slowly and asked which way was Kim coming from. They explained to us that we cannot wait for him any longer because the bus timetable would be messed up. We cannot be late, otherwise we would be delaying the next bus schedule. OMG. Finally, there was Kim. Running a few meters behind the bus. We started laughing at the mere sight of him struggling to catch the bus with his backpack. He was waving at the bus conductor yelling, "I'm here! I'm here!" in Ilonggo. He was out of breath when he stepped inside the bus. The conductor literally pulled him up from the bus entrance, and all the other passengers started to laugh. Whew! That was a close call. He almost missed the bus!
It was the start of the long bus ride. A ticket to Antique cost us P210 ($7.50 AUD) for a non air-conditioned bus. I chose a window seat to get a hold of some fresh air, and I immediately fell asleep as soon as the bus started running.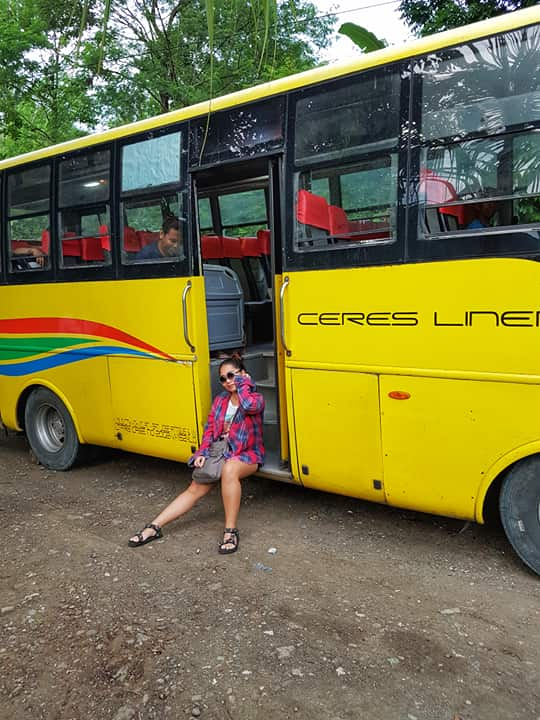 In a couple of hours, the bus stopped. I was already feeling the hot breeze on my face, the sun was already up so I was wide awake. It was around 9:00 AM and we have finally arrived in Antique. It was a 3-hour travel. But the thing is, we haven't arrived at our destination yet. The conductor informed us that it would take another hour before we reach Pandan. We were just stopping by to stretch out a bit and for a quick toilet break. It was the final stop for most of the passengers so there was less than half of the people in the bus. As we headed on, the people in the bus went down one by one until there were only a few left. The bus probably stopped for about 15 times before we finally reached Pandan. It seemed endless. By the time we got there, it was only the 4 of us left inside the bus plus the driver and bus conductor.
IT WASN'T ANOTHER HOUR. IT WAS A TOTAL LIE. It was already around 11:30 AM when we finally reached Pandan Bus Terminal! Like whooooot??? So much for sunbathing at 9! I kept on asking the conductor if we were there yet each time the bus would stop. I probably pissed him off for asking every half hour. I felt so stupid. I was the leader of the pack, how could I miss this part from my google searches? We were just so enticed with the picturesque view of Malumpati Cold Springs, that we just missed that part where it says it's another 3 freaking hours from the main proper of Tibiao. We were so exhausted from the bus ride. We felt sticky and grouchy from the very humid weather. The sun was glaring at us! Remember, we didn't take a shower thinking we would be bathing in the Cold Springs by that time. But no. We were in the middle of Pandan Bus Terminal, not knowing where to go next. I took out my phone and started to check out Google Maps to navigate. Signal was on and off. I needed to find a data spot. It sounds like a scene from a thriller movie. No signal + stuck in the middle of somewhere. As soon as my data started working, I instantly turned on my GPS. Good grief!!! Our location pin was at the end of the island, a few minutes away we could already be in Boracay Island. 7 freaking hours of travel by land! We should have just gone to Boracay for goodness sake! What in the world was I thinking? I don't remember signing up for a 7-hour land travel! Had I known that it would be a laborious travel, I would have pushed through with Mararison. How could this be such an epic fail?
But anyway, Google says it's another half hour to reach Malumpati Cold Springs. We hailed a tricycle to take us there. We traversed for about 20 minutes. We paid for P50 ($1.5 AUD) per head, so a total of P200 ($6 AUD) for the 4 of us. A signage welcomed us by the entrance.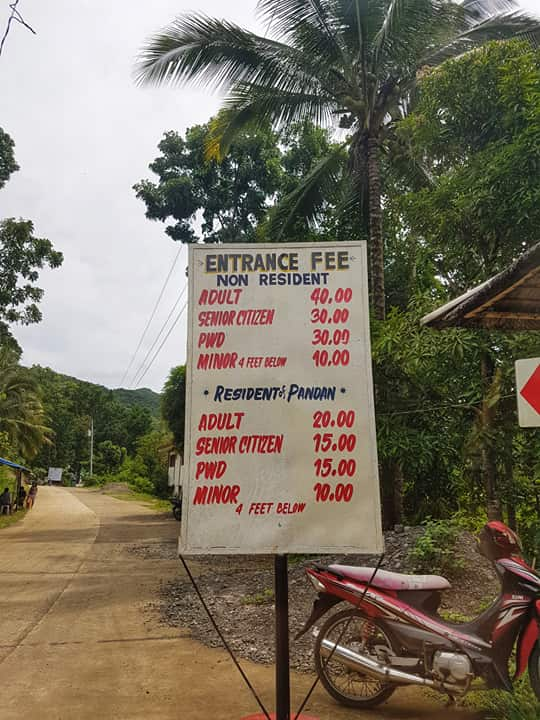 We paid the entrance fees and to our luck, the road to the cold springs was steep. We all had to get off to help the driver push his tricycle. We were already so pissed at this point. We were so behind our schedule! We were already ranting all the way through, both in Tagalog (Manila dialect) and in Ilonggo. Upon hearing our frustrations, the tricycle driver offered to pick us up for free. It was already past 12 noon and we all agreed to return to the bus terminal at 3:00 PM. You can just imagine how exasperated we were. THE FREAKING LAND TRAVEL WAS LONGER THAN OUR STAY. In the original schedule, we're supposed to be traveling back to Iloilo by 3:00 PM. But we cannot skip the rest of the itinerary at this point. Not when we've traveled a long way already.
MALUMPATI COLD SPRINGS, FINALLY!
Our first look into the cold springs, we were like, "Ito na 'yun?" (This is it?) We felt like our expectations weren't met because we traveled all the way from Iloilo just to see what was in front of us. We have all declared IT WAS NOT WORTH IT! The butt-hurts from the long raging hours in the bus, the steep tricycle ride… and this was it? Our point of view has changed however after we settled down, refreshed ourselves, and took another look. All of a sudden, it has become beautiful without any pretenses.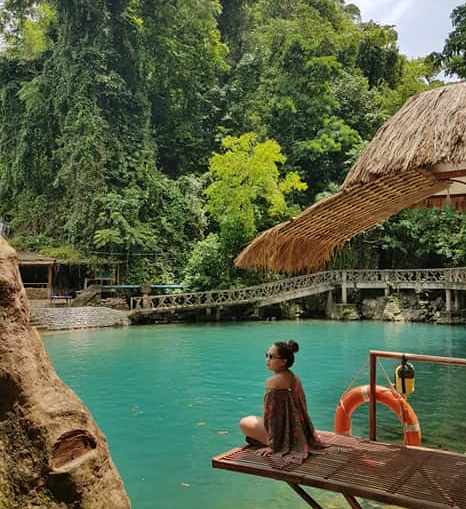 It is true that seeing things from a composed outlook alters everything. I wowed my Instagram followers with a view of the cold springs. Every angle, wherever you look is just invigorating. I badly wanted to jump into the waters as soon as I saw it, but I pacified myself from over-excitement. I have this mentality that if you are too happy, something unlucky would come up next. So calm down! Calm down, Bobbie! The 4 of us decided to have lunch first before we explored the entirety of it.
Since we came in late, we had less to none choices for lunch. We had no right to be picky. There was a small canteen near the life-vest rental shack, and it was the only stall that was open that time. We devoured whatever was left in their food keepers and realized we could have saved a lot more by bringing our packed lunch if we had planned this better. Our 7-hour travel made us really hungry. We haven't had anything since we woke up at 5:00 AM.
This happens to be our view as a compensation for all the inconvenience. Since we came on a weekday, we had the place to ourselves. Krizia had to warn me every now and then to be careful with places like this. I am a very inquisitive person. Every time I go somewhere, the "travel journalist" in me automatically comes out. But on this particular trip, I was careful. We were visitors, and we don't know the people (and the creatures) that reside in the place. There are a lot of mythical stories in this part of the country, it is best not to stare at people and mind your own business. The cold springs might be enchanted by some fairy spirits or something. I'm sorry, I did not mean to spook you or creep you out in any way. I am not a believer of myths myself. They are called myths for a reason. But it's always better safe than sorry.
The 16-feet pristine spring water is very inviting. It looks like a natural pool with trees and wooden bridges on the facade. Aside from swimming, there are other activities that can be enjoyed in Malumpati Cold Springs. You can go "water tubing", where you ride the inner tube of a rubber tire and steer your way through the gushing waters on the other side of the springs. A guide will help you navigate. It's like wild water rafting, but it's not as wild. There's also rappelling, zip-lining, and trekking, of course every activity has a price.
RAPPEL: P50 ($1.50 AUD)
TREKKING WITH GUIDE: P150-P200 ($5-6 AUD)
ZIPLINE: P200 ($6 AUD)
WATER TUBING: P200 ($6 AUD)
We just decided to rent a rubber tube without fully experiencing water tubing. We had very limited time, as we still planned to push through with our intended itinerary despite the fact that we were already so behind schedule.
We didn't have any other choice anyway. We were already there. What else could we do but to jump into the turquoise waters and enjoy the view. I even brought my favorite goggles with me and the funny part is… I LOST IT THERE! It was just a pair of goggles, I know. But a little mishap like that, added to all the other misfortunes we went through just to get there ignited our belief that the day of this misdaventure just doesn't end there.
---
TO BE CONTINUED…
HAVE YOU BEEN TO ANTIQUE?
WHERE EXACTLY DID YOU GO?
HOW WAS YOUR EXPERIENCE?
I'D LOVE TO HEAR FROM YOU!