Editor's Rating
Here's a new way to grill your fish! Spice it up the Indonesian way!
I really enjoyed food in Jakarta. I probably gained two to three kilos within 20 days of my stay there.  I was introduced to Martabak (buttery Indonesian Style Pancakes with savory or sweet fillings), Padang, Balinese food, pempek (fried/steamed fish cakes), otak-otak (grilled fish cakes in Banana Leaves), Bubur Ayam (I miss having this for breakfast) and a whole lot more. The flavor of Indonesian food has a certain distinction. It's different from the neighboring Singaporean and Malaysian Cuisines. I'm probably gonna make an entire post about Indonesian Cuisine soon.

Anyway, what I really liked the most is Indonesian-style Grilled Fish or Ikan Bakar. You can make this dish anywhere you are around the world, as long as you can find the key ingredients. So, let's go into it!
Preparation Time: 20 mins.
Serves: 2
Grilling Time: 30 mins.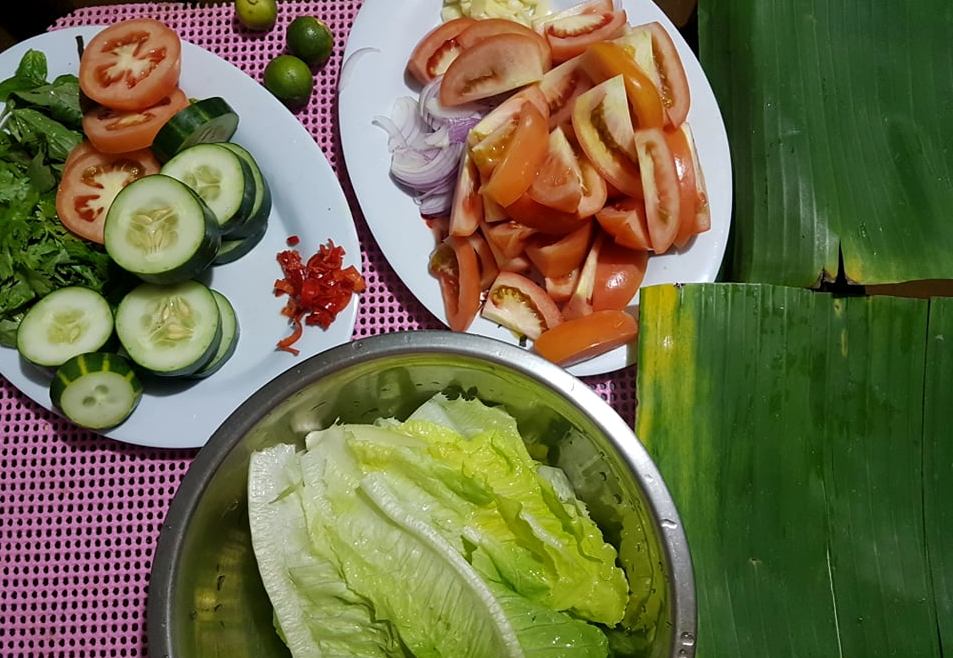 INGREDIENTS:
Fish: Red Snapper or Any white fishFor the Marinade:
Candlenuts, can be substituted with cashew / regular peanuts.
‌Coriander
‌Galangal
‌Lemongrass
‌Kaffir Lime Leaves
‌Red Onion
‌Red Chilli
‌Garlic
‌Ginger
‌TurmericFor the Basting Sauce (during grilling process)
Sweet Soy Sauce (Kecap Manis), preferably Bango brand than ABC as it tastes better.
 ButterFor the Sambal
Shrimp Paste, preferably Indonesian shrimp paste (sambal terasi), but using Bagoong is fine.
‌Salt & Sugar
‌Calamansi
‌Red Chilli, cut in small dice.
‌Tomatoes, cut in small dice.
‌Red Onions, cut in small dice.
‌Garlic, cut in small slice.For the Garnish
Lettuce
‌Tomatoes
‌Cucumber
‌Banana Leaves
‌Basil
PROCEDURE:
FOR THE MARINADE
1. Combine all marinade ingredients. Use food processor to blend all together until smooth. Notes: For the Chili, it's better to use mortar and pestle (M&P) as the flavor extracted from it is superior than using the blade of a food processor because the blade tend to just shred the chili until fine.
2. Clean the fish. Please ask your fish vendor to clean it for you if you don't know how. I don't know how so I asked them.
3. Slice the fish with 3 incisions. I like number 3, that's why. You can slice as many as you want but I wouldn't recommend going above 3 because presentation-wise, it will look ugly.
4. Put all marinade in between the cuts and all over the fish. Smother the fish like you spread your peanut butter on top of your sandwich. ALL over it!
5. Let it sit for at least 30mins. The longer the better.
FOR THE SAMBAL
I got this recipe from Google but I won't give you the link cause I'm stingy.
1. Cook the Shrimp Paste dry in a pan. Do not put any single droplets of oil as the shrimp paste is already oily.
2. Cook it until it's a bit dry.
3. Take off the shrimp paste from the pan.
4. Now you can put oil.
5. Put the other ingredients, tomatoes, chilli, onions, garlic.
6. Cook them all until they are soft but not mushy
7. Combine them all with the shrimp paste, salt&sugar to taste, and the calamansi juice.
AFTER-MARINADE
1. Prepare your grill. Charcoal is better in general. But if you don't have it, using stove is fine although it will produce less superior taste.
2. Remove all of the marinade from the fish.
3. Prepare the basting sauce. Combine all ingredients together. Put a bit of water to thin out the sauce if you want.
4. Use a brush, brush the the fish all sides with the basting sauce.
5. Grill the fish, Use medium heat if you are using the stove. Do not go with high heat as it will quickly burn the marinade / basting sauce.
Keep brushing the fish with the basting sauce while grilling every now and then.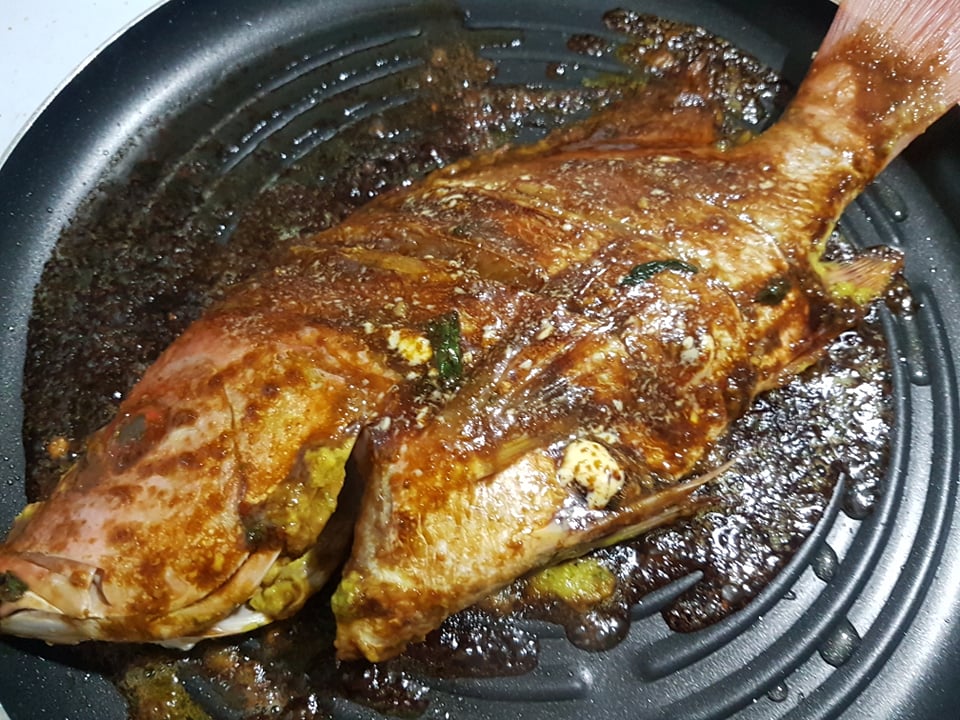 IMPORTANT NOTE / WARNING: Do not turn over the fish so many times as it will break the fish (I know I did it).
ONLY TURN IT ONCE!!!
Cook one side of the fish until you think it's done. You need to channel your inner Gordon Ramsay spirit, if you don't have it, I'm sorry you are screwed buddy! Nothing I can do. But generally speaking, it's about 5-10mins. Roughly. Do not overcook your fish or else you are going to eat a rubber fish.
6. Once you turn it over, cook the other side of the fish. Again, keep brushing the fish with that delicious sauce.
7. If it's done, use a spatula large enough to lift out that fish out of the pan. If you do not have it, another trick is to just slide the fish onto your serving plate.
SERVING
It's serving time!!!!
1. Cut out banana leaves to fit your plate.
2. Put the grilled fish on top of the banana leaves.
3. Garnish the sides however you want, yes I'm giving you the freedom, please use it wisely. Do not garnish your dish like you draw your first mountain when you are 5 years old. Keep it simple.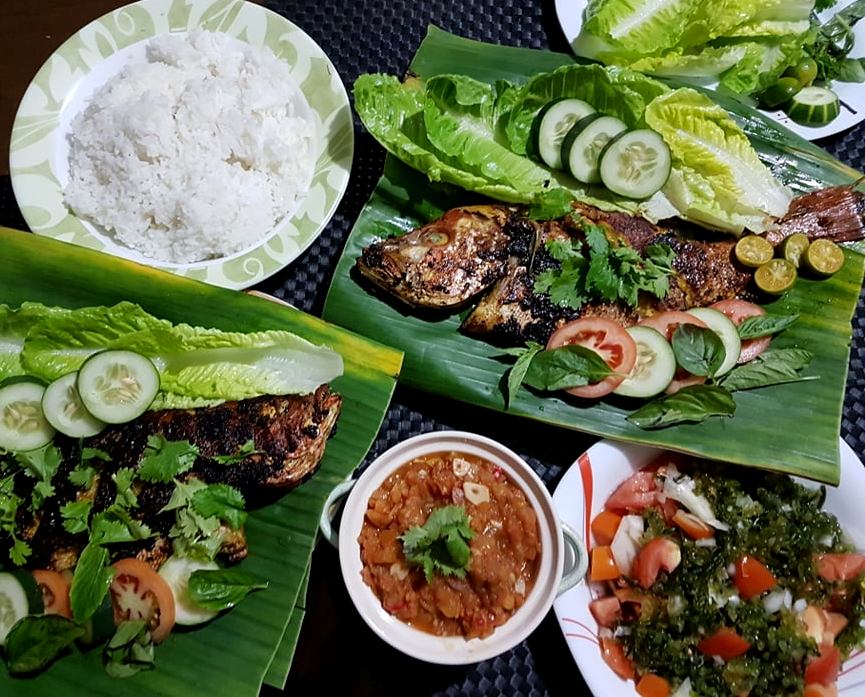 Thanks for reading! Good luck!
---
RECIPE CONTRIBUTOR: SANDY BUDI DHARMA
(No photo, as he wants to be as private as he can. Hahaha.)
---
Do you have recipes that you would like to share?
I'd love to hear from you!
Shoot me a message!