Laksa is one of the most well-known dishes in South East Asian Cuisines. It is a very rich soup dish which usually consist of dried chilies, lemongrass, shallots, galangal, turmeric, dried shrimp, shrimp paste, and coconut milk. It is usually served with fish cakes, wheat noodles or vermicelli, prawns or fish, or any kind of meat. In Malaysia, the Malacca Laksa is said to have been introduced by the Peranakan Chinese Malay in Malacca.
Now that the rainy days have come, the cravings for rich soup dishes have intensified. Well, not all of us can afford a quick trip to Malaysia or Singapore to have a bowl of authentic Laksa from which it came from. Sometimes, all we have to do is to search around the Metro and find that dish to transport us to these places.
Good thing the number one Laksa in Malaysia is finally in the Philippines, yes, you heard it right! Limapulo Philippines is now open to serve us and satiate our Laksa cravings!
LIMAPULO PH AND PRESERVING THE CULTURAL HERITAGE OF BABA NYONYA
Malaysia is a country that prides itself as a food haven, the Baba Nyonya cookery is a gem not to be missed. At Limapulo, their mission is to satisfy those yearnings for a Peranakan escape with a feast of intriguing flavors. And now that they have branched out in Metro Manila, we are lucky to be able to have all these goodness delivered to us right at our doorsteps. We should be able to see these delicate culinary treasures as Limapulo takes pride in serving their guest the most authentic yet reasonably-priced traditional Peranakan fare.
BEST CURRY LAKSA AND THE MENU
Limapulo's most celebrated dish is the award-winning Nyonya Laksa. Because it is just so good, people judged it as the Best Curry Laksa in the prestigious "The Star People's Food Awards", gained a Certificate of Excellence from Trip Advisor in 2016, 2017, and 2018, Top 10 Best Experience in the World by Lonely Planet, and Air Asia's 10 Best Noodles in Asia.
Now, we can have this award-winning Laksa delivered to us through Limapulo PH, situated in the Food Hall of Mall of Asia, Pasay City.
Limapulo PH not only boast of their award-winning Laksa, but they also have a wide array of dishes that would definitely take you to a quick trip to Kuala Lumpur in a bit (or shall I say in a bite).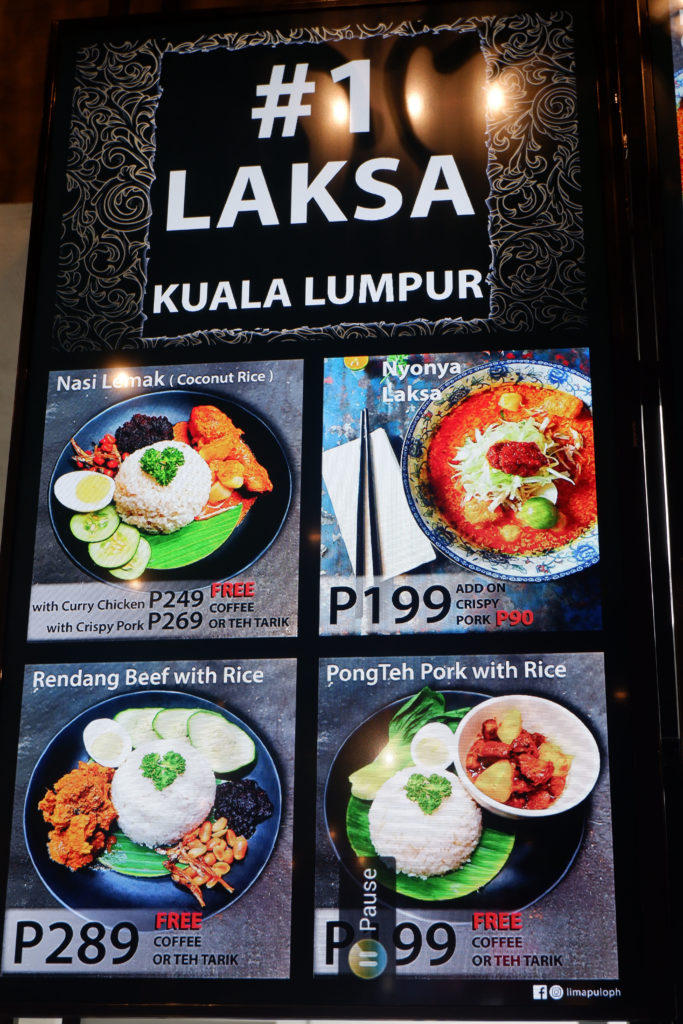 At very reasonable prices, one can order a bowl of Nyonya Laksa at P199 ($5.60 AUD). A simple food review article like this can never justify how good it is.
Limapulo's Menu also offers Crispy Pork, Nasi Lemak with Curry Chicken, Pong Teh Pork, authentic Beef Rendang (which is just so tender and absolutely a must-try), and an assortment of Nyonya Balls.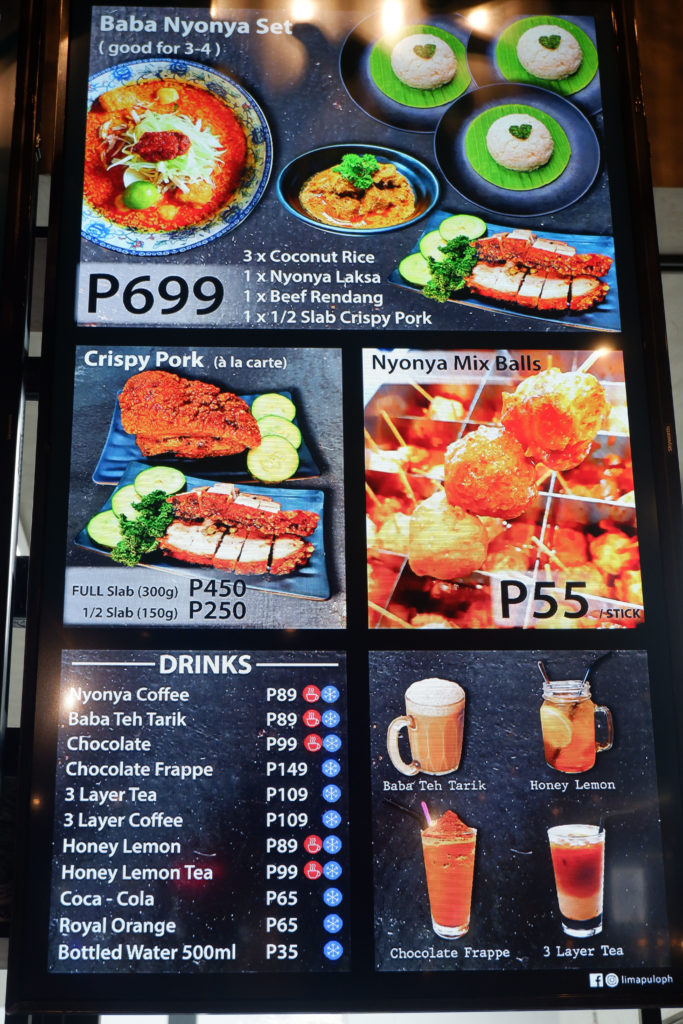 The three layer tea is a particularly refreshing beverage. Also known as Teh C Peng, it is a popular drink among the locals of Kuala Lumpur and Singapore.
SAFETY PRECAUTIONS: While all these can be ordered through Food Delivery Apps, the best experience is still to dine in their restaurant. However, given the current pandemic circumstances, when everyone is taking precautions outdoors, Limapulo PH assures the safety of their customers. Tables and chairs are sanitized properly and proper distancing are always in place. Upon entering Mall of Asia, people are still required (it's for our own safety) to wear a mask and a face shield. So please take the necessary health and sanitation protocols at all times.
We've had our first dibs on this amazing Japanese-Malaysian Fusion, the Ichiban Laksa.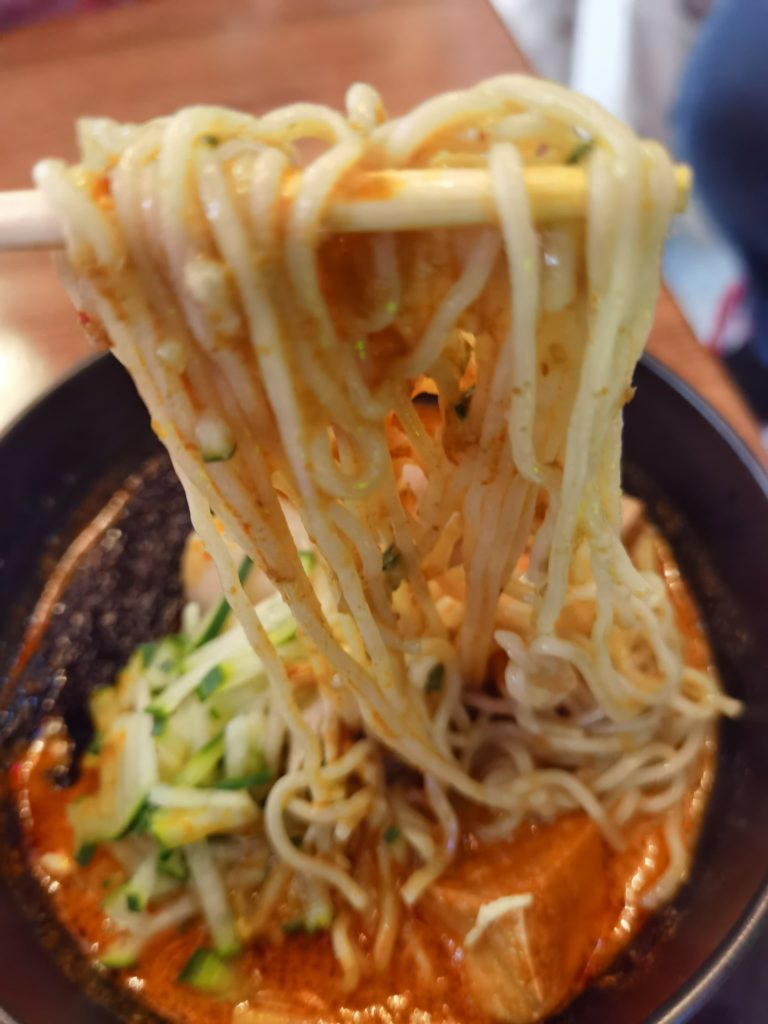 Ichiban Laksa is made with wheat noodles ("Ichiban Noodles"), nori, tofu, slices of fresh cucumber, bean sprouts, eggs, and practically a cross between a Ramen and a Laksa. This is definitely something to watch out for at Limapulo PH.
Check them out on their Socials!
Facebook: https://www.facebook.com/Limapulo-PH
Instagram: @limapuloph
They deliver via Food Delivery Services: Grab Food, Food Panda, Phonebooky App. They also have a pop-up branch at Car Doctor and The Food Hive, Visayas Ave.
You may contact the following numbers for orders and deliveries:
Visayas Ave Quezon City – 09173041111 (9am – 7pm)
Mall of Asia Pasay City – 09564212411 (10am – 8pm)
---
TRANSPARENCY: I WILL NEVER RECOMMEND ANYTHING THAT I HAVEN'T PERSONALLY TRIED AND TESTED. EVERYTHING ON THIS ARTICLE/REVIEW ARE MY PERSONAL JUDGMENTS. ALL PRODUCTS/ITEMS HAVE BEEN THOROUGHLY CHECKED OUT BEFORE ANY RECOMMENDATIONS.
FOOD PHOTOS ARE ALL MINE. SUBJECT TO COPYRIGHT.
WOULD YOU LIKE TO COLLABORATE WITH ME?
SHOOT A MESSAGE ON MY FACEBOOK PAGE OR SEND ME AN E-MAIL:
I'D LOVE TO HEAR FROM YOU!