Editor's Rating
Easy Beancurd and Mushrooms Hotpot
My ingredients were supposed to be for Kimchi Jjigae, but apparently we ended up eating the Kimchi before they were even turned into a soup. So I had to cook something else with the vegetables I had left. I love how these ingredients were just perfect for a quick hotpot! You can easily whip this up in just a couple of minutes.
Preparation Time: 10 mins.
Serves: 4
Cooking Time: 15-20 mins.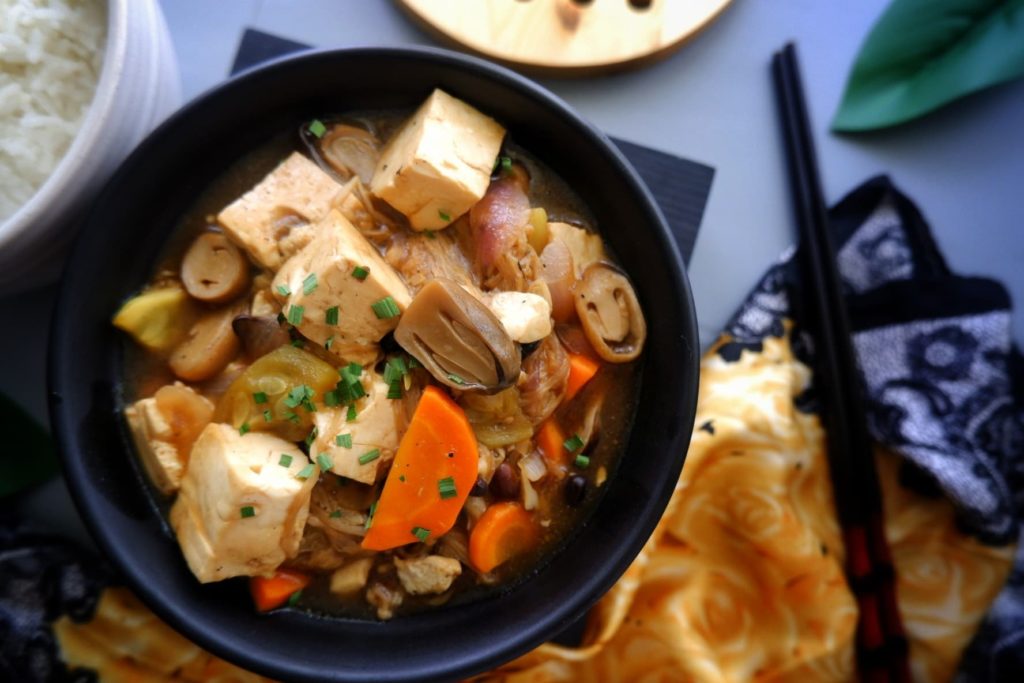 INGREDIENTS:
Tofu (300g)
Zucchini, 1 pc. (sliced)
Enoki Mushrooms (1 bunch)
Straw Mushroom (1 can, 275 g.)
Carrots, 2 pcs. (sliced)
Garlic, 4 cloves (chopped)
Onion, 1 pc.
Malt Vinegar (3 tbsp.)
Soy Sauce (2 tbsp.)
Oyster Sauce (2 tbsp.)
Salt and pepper to taste
Black Beans (3 tbsp.)
Corn Starch Slurry (1/4 cup water with 2 tbsp. cornstarch)
Spring Onions (for garnish)
PROCEDURE:
In a medium sized heavy bottom pan, saute onions and garlic in a bit of cooking oil.
Add in carrots until they are half-cooked.
Add in zucchini and stir.
When zucchini and carrots are almost cooked through, add in the mushrooms and stir.
Mushrooms cook fast, but you have to make sure they are cooked-through so add in about 1/4 cup water and simmer.
Add in the sauces and vinegar and then simmer.
Add in tofu and black beans. Mix all ingredients together, making sure the tofu won't disintegrate throughout the process.
Add in Corn Starch Slurry to make the sauce thick. Adjust salt and pepper to taste. Simmer until everything is cooked through.
Serve in a dish with hot rice. Garnish with spring onions.
---
DO YOU HAVE A VEGETARIAN RECIPE YOU WISH TO SHARE?
LET'S COLLABORATE!
HOW DID YOU FIND THIS RECIPE?
LET ME KNOW! I'D LOVE TO HEAR FROM YOU!