Chicken Wings will always be a craze wherever you are around the world. Chicken wings stores in malls would always be packed with a long queue of people, craving over flavored chicken wings. This time, you don't have to go to the mall or outside your house, Wincey Wings is finally here in Metro Manila to serve us.
Wincey Wings offers 11 flavors of Chicken Wings to choose from, Cheesy Bacon, Honey Mustard, Lemon Glaze, Soy Garlic, Garlic Parmesan, Sweet and Spicy, Salted Egg, Creamy Cheese, and Classic Fried Wincey Wings! What more could we ask for? They have 4 variations of dips, Cheese, Barbecue, Galic Aioli, and Sizzling Red Hot Sauce.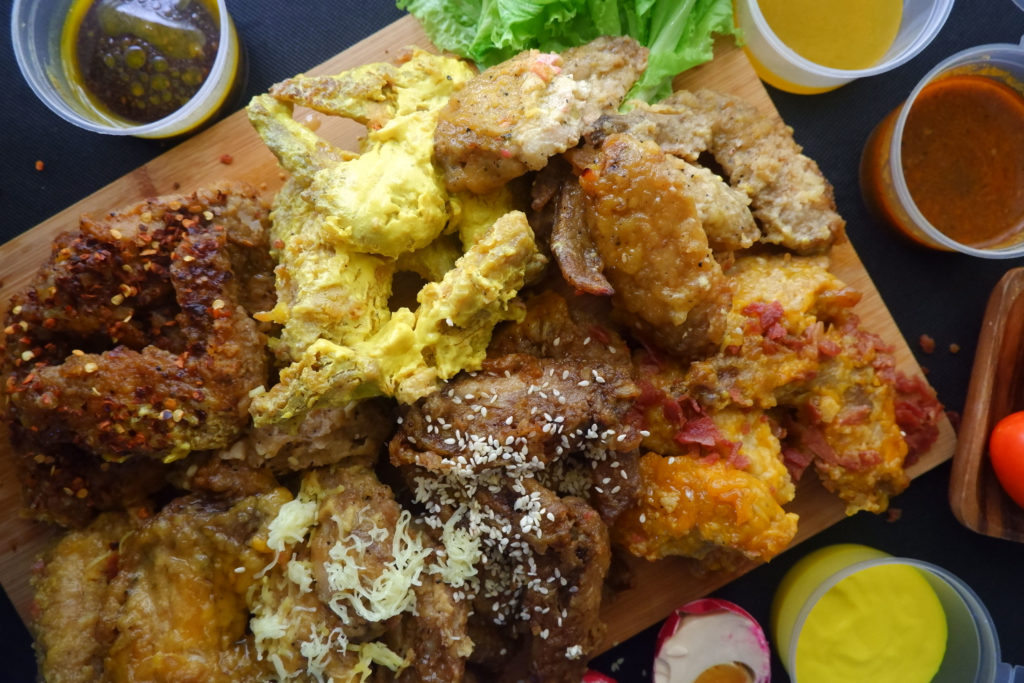 I was given the chance to taste these amazing chicken wings last weekend, made fresh, minutes before delivery. They came in hot upon delivery. I had to try several flavors for me and my family so we enjoyed the party pack wings. We sincerely loved the party pack wings that came with 6 flavors of wings. As I removed the cover of the party pack, all we could say was "woooow". The presentation was really appetizing, we just couldn't wait to taste them. The wings were tender and very flavorful. You can avail the Party Pack for only P749 for 50 pcs. of flavored wings! That's a good deal! If you wish to add Milk Tea for a party, Wincey Wings have it by the gallon for your get together. For only P1249, you can get party pack wings and a gallon of milk tea to go! NOW THAT'S AN AMAZING DEAL!
What's more? Wincey Wings not only have Chicken Wings but they also serve Tacos in 3 different flavors. Classic Taco, Cheesy Overload, and Cheesy Garlic. For P149, you can avail 3 pcs. of Tacos to go with your wings.
Their RTea Milk Tea comes in different sizes. Whether you are calling for a party, or simply just want wings and milk tea combo, or milk tea on the go, Wincey Wings has the perfect combo and variations for you to choose from. They now have Matcha Milk Tea Series, Cream Cheese and Cheesecake Series, and the classic milk tea flavors that we all love.
To make ordering easier for customers, you can now satiate your wings and tea cravings via Food Panda! Wincey Wings delivers via Food Panda! With 11 flavors, tacos, and Milk Tea combos, Wincey Wings is going to be the next one stop shop for everyone's chicken wings cravings!
Check out more about Wincey Wings and their amazing deals on their socials!
Facebook: https://www.facebook.com/WinceyWings
Instagram: @WinceyWings
Gmail:
---
TRANSPARENCY: I WILL NEVER RECOMMEND ANYTHING THAT I HAVEN'T PERSONALLY TRIED AND TESTED. EVERYTHING ON THIS ARTICLE/REVIEW ARE MY PERSONAL JUDGMENTS. ALL PRODUCTS/ITEMS HAVE BEEN THOROUGHLY CHECKED OUT BEFORE ANY RECOMMENDATIONS.
WOULD YOU LIKE TO COLLABORATE WITH ME?
SHOOT A MESSAGE ON MY FACEBOOK PAGE OR SEND ME AN E-MAIL:
I'D LOVE TO HEAR FROM YOU!